Anxiang Du: Ding family killer sparked worldwide manhunt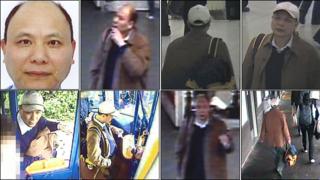 Businessman Anxiang Du stabbed a family to death in their Northampton home and fled overseas while their bodies lay undiscovered. BBC News looks at his audacious escape, the 14-month manhunt and his eventual capture more than 1,500 miles away.
Sleeping rough on a building site in Morocco, Du was a very long way from home.
Workers who took pity on the scruffy-looking man wearing plastic sandals brought him food and had no idea he was the UK's most wanted man.
More than a year earlier, the dishevelled figure ran a shop in Birmingham, and had a semi-detached house in Coventry and stabbed a family of four at their home in Wootton, Northampton.
Jifeng "Jeff" Ding, his wife Ge "Helen" Chui and daughters Xing and Alice were killed on 29 April, 2011 - the day of the royal wedding of the Duke and Duchess of Cambridge.
The day before the killings, Du had lost a legal case made in Helen's favour, which left him owing £88,000 in legal costs.
The family was not found until a neighbour checked on them on 1 May - by which time Du was already in France, or perhaps Spain, as he travelled south.
'Crawling through mud'
Within days, Du was actually arrested by Moroccan police on suspicion of being an illegal immigrant. But they were unaware of the Northampton murders and he was released.
Back in the UK, police revealed Du as the prime suspect within days and released CCTV footage of him at Coventry railway station and at Birmingham New Street on the day of the killings.
Later, he was captured on camera at Northampton bus station and on a local bus to Wootton.
As to where Du fled afterwards, there were few clues.
What felt like a hopeful breakthrough early in the investigation turned into a long, frustrating, international search.
"From the outset, we were days behind," recalls Glyn Timmins, a former Northamptonshire detective superintendent, now retired from the force. "It was like crawling through mud."
Crucially, a rented Vauxhall Corsa was missing from outside the Dings' home in Pioneer Close.
Travelled to Morocco
Du had slept after killing the Dings, awoke in darkness and planned his escape. He stole the Corsa from the Dings' driveway, headed to the M1 and stopped at a service station for a banana milkshake.
He also bought a map of Northamptonshire and drove elsewhere in the county to find another business associate of the Dings who, fortunately, was not at home that night.
At some point he must have given up and driven to London - passing Automatic Numberplate Recognition (ANPR) cameras - before dumping the car in a side street in St John's Wood in the early hours of 30 April.
That same day, his wife arrived at their Chinese herbal medicine shop in Birmingham and found the farewell note he had left her. She reported him as missing.
"She was in great distress, hysteria," said Malcolm Howell, who runs a shop in the same centre.
Meanwhile, the Dings' car amassed nine parking tickets before it was finally made known to officers on 11 May - despite its registration number being on the police database for days.
By this time, Du was well on his way to Morocco.
He had boarded a coach to Paris on the morning of 30 April, travelled through France and Spain and caught a ferry from the port of Algeciras to the Moroccan city of Tangier.
Makeshift bed
He then went to Oujda, near the Algerian border, where he was arrested on suspicion of being an illegal immigrant.
But because police could not determine his identity and did not know he was wanted in Britain, they let him go.
It was not until a year later, in the summer of 2012, that Northamptonshire Police announced they believed he was in Morocco.
His photograph was printed in Le Journal de Tangier, and a woman came forward to say her son recognised him.
He was found living in a partially-built block of flats, sleeping on a makeshift bed and using a small gas stove to cook meals.
Police chief Abdallah Bellahfid recognised Du as a man he had interviewed more than a year earlier.
"I was 99% sure that the man in front of me was the man Interpol was looking for, particularly because he lied about his identity in Oujda and again in Tangier," Mr Bellahfid told BBC Inside Out Midlands.
"When I confronted him with the evidence he couldn't hide any more."
Du was held in custody before being extradited to Britain in February this year.
Describing that moment, Mr Timmins said: "It was elation, relief.
"I didn't anticipate he would evade capture for as long as he did.
"I did draw parallels with an inquiry where a teacher was murdered in Japan.
"The murderer in that case led a double life as a labourer on a building site. And it turns out Anxiang Du obviously took a leaf out of his book."