Daventry Skate Park officially opened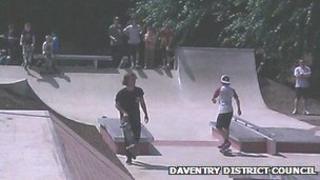 A new community skate park has been officially opened in Daventry.
The Jubilee Skate Park at New Street Recreation Ground cost £135,000 and was built in response to calls from young people in the town.
After a ribbon-cutting ceremony on Saturday, skateboarders, inline skaters and BMX and scooter riders gave demonstrations.
Local skaters helped to design the park, funded by Daventry District Council and partners.
About 200 people attended the event.
Richard Caple, project manager for the council, said: "We opened the park on Wednesday because the kids couldn't wait to get on it.
"It's extremely popular. They absolutely love it."
The council received grants from the SITA Trust, Money for Youth, Daventry and District Housing and the Daventry District and South Northamptonshire Community Safety Partnership towards the cost of the project.
The metal ramps previously at the site have been bought by West Haddon Parish Council for skaters in the village to use.