Harvest mice study could help 'future conservation'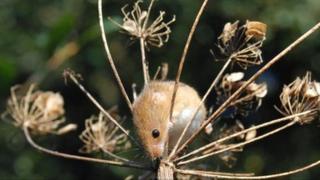 The secretive habits of Britain's smallest rodent are to be tracked by researchers in Northamptonshire to try to halt the decline in population.
The harvest mouse is under threat due to the destruction of its habitat, modern farming methods and pesticides.
A Northampton University and Moulton College study will follow the mammals over a lifetime using radio technology.
Researcher Emily Howard-Williams said its findings could help to "inform future conservation".
Miss Howard-Williams, 30, an associate lecturer at Moulton College on the outskirts of the town, said relatively little was known about the creatures because of their miniscule size and elusive nature.
She plans to release 150 micro-chipped rodents into the grounds of the agricultural college and track each one during its lifetime for her PhD research.
'Difficult to monitor'
"They are hard to study as they are so tiny and their weight is so small compared with other mammals and so you can't trap them as easily," she said.
"They tend to last just six months in the wild and 95% die over the winter but they are very good at breeding.
"We hope to discover some interesting data and find out a lot more about them because they are so elusive.
"It is difficult to monitor population numbers but the evidence is that they are in decline."
Numbers of the tiny mammal, which lives in hedgerows and fields, have plummeted due to changes in farming methods.
Each mouse's movements will be followed by a wireless radio frequency technology system, developed by university student David Wallis.
Electronic traps laced with food will entice the mice to pass through and the information will be fed into a data logger.
"The aims are to see if their re-introduction is a valid conservation tool and also to find the best habitats and how they disperse in farmland," said Miss Howard-Williams.