Northampton service marks end of Korean War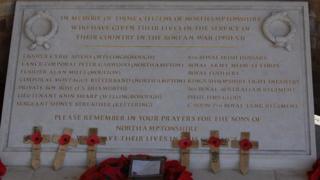 A service has taken place in Northampton to mark 60 years since the end of the Korean War.
Members of the Korean Veterans' Association and more than 100 representatives of the armed services and cadet forces took part.
Standards were draped over drums to create an altar in the Memorial Garden in Abington Square.
A memorial to the 39 service personnel from Northampton who have died in wars since 1945 was also unveiled.
Eight men from Northamptonshire lost their lives in the Korean War, which ended on 27 July 1953.
Tony Wade, chairman of the Royal British Legion in Northampton, said: "Around 50 Korean War veterans from around the county attended, along with two representatives from the South Korean embassy."
The service was organised by the Korean Veterans' Association, Northampton Borough Council and the Royal British Legion.
It included a piper, a bugler and the choir of All Saints' Church, Northampton.
David Mackintosh, leader of Northampton Borough Council, said: "The sacrifices made by servicemen and women and their families over the years have helped to shape the country we live in today.
"It is now 60 years since the end of the Korean War and it is important that we mark this date with a civic ceremony to honour the veterans and their families."