Naseby battlefield visitor centre to open in church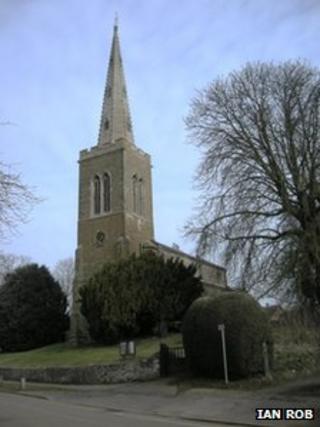 A visitor centre to commemorate the Battle of Naseby in Northamptonshire could be opened in a village church.
Naseby Battlefield Project had hoped to purchase land overlooking the battle site for a new museum, but failed to raise the £300,000 price.
They now hope to open a joint visitor and community centre in part of the 13th Century All Saints Church.
Naseby, in 1645, was a decisive battle of the English Civil War and one of the most significant in British history.
The project's Jenny Tarry said the plans would have to be in keeping with the church, which is a listed building.
The group formed in 2006 to raise awareness of the importance of the site of the Battle of Naseby.
'Community benefits'
Supporters of the group's initial plans for a museum purchased a site next to the battlefield four years ago, and planning permission was approved by Daventry District Council in July 2011.
However, Naseby Battlefield Project members had struggled to raise the £300,000 to reimburse them, and those who financed the purchase now want their money back.
Project members have already set up a historical tour of the site, with visitor boards describing events. They admitted the £6m visitor centre and museum plans may have been "a little ambitious".
Mrs Tarry said: "A partnership has now been established between All Saints Church in Naseby and the Naseby Battlefield Project.
"Its aim is to share space inside the church, creating a visitor centre for the decisive Civil War battle, whilst maintaining an active place of worship with modernised 21st Century facilities."
Mrs Tarry said project members would work closely with Church of England buildings officers, and the Diocese of Peterborough, to create a "sustainable resource for the benefit of the whole community".
Plans for the joint visitor and community centre were in the early stages, but could cost more than £3m, she said.
Church officials would assist project members with plans and grant applications, Mrs Tarry added.