Corby Borough Council new chief voted in unanimously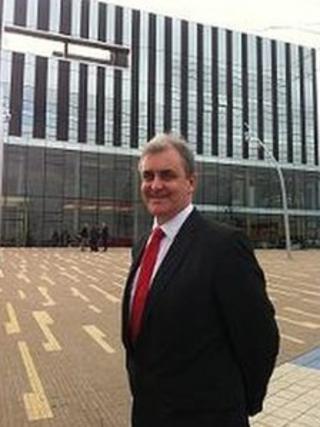 A man who stood in as chief executive at a troubled borough council has been given the job permanently after a unanimous vote of support.
Norman Stronach initially took the job at Corby Borough Council as an interim measure.
He took over running the council at a time when several major projects were causing problems.
Council leader Tom Beattie said Mr Stronach would continue to take the borough forward.
During his time in the interim role he had to deal with the aftermath of the Corby Cube.
The cube was a new building which took two-and-a-half years to construct and was originally supposed to cost about £35m.
But the final bill for the building, which houses council offices, a library, theatre and a register office, was £47m.
Another problem involved a tract of land sold to a supermarket for well below its market value under a previous chief executive who was judged to have acted "outside his powers".
The borough's cross-party appointment panel brought the recommendation for his appointment forward for a vote on Thursday night which was unanimously in his favour.
Mr Stronach has spent over 30 years in local government and joined Corby Borough Council as head of regeneration and growth in 2003.
He became acting chief executive last year when the post holder Chris Mallender took a sabbatical.
Mr Beattie said: "Since taking over as leader in 2012 I've worked with Norman closely during his time as interim chief executive.
"I am confident that he will make an excellent chief executive."