Northamptonshire police officers given body cameras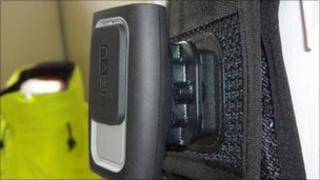 Twenty body cameras have been issued to police officers in Northamptonshire to record incidents for use as evidence in court cases.
The cameras operate continuously with a 180-degree sweep and can record in darkness.
Adam Simmonds, Northamptonshire Police and Crime Commissioner, said they were valuable in bringing more convictions.
Linda Lee, former president of the Law Society, said she was concerned the cameras could be a privacy intrusion.
Ms Lee said that because they operated continuously the cameras would pick up a lot about people's everyday lives, which could be an unwelcome intrusion.
Mr Simmonds said that instead of officers having to record incidents on paper and trace witnesses, the court could see and hear the details of incidents in real time.
"The incidents are not likely to be broadcast widely and only what is appropriate will be shown in court," he said.
"As Police and Crime Commissioner I will no doubt be answering any complaints.
"The cameras are a great step forward and give police officers the technology to keep Northamptonshire safer."