Daventry council considers fines for pigeon-feeders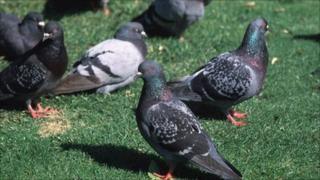 Shoppers who feed the pigeons in a Northamptonshire town could face fines.
Daventry District Council said the large number of pigeons in the town centre was a potential health hazard.
It is asking people not to feed the birds and is warning those who ignore the advice could be fined for dropping litter.
The council said it would be installing signs warning people not to feed the birds and was advising property owners how to deter pigeons from roosting.
'Technically littering'
It said the problem was particularly bad in Bowen Square and Foundry Place, where large numbers of pigeons sit on the canopies of shops and pathways.
The council's environmental improvement team is warning that dried pigeon droppings can spread diseases similar to pneumonia and influenza, and that feeding the birds will encourage their numbers to grow.
Daniel Cribbin, environment portfolio holder at the council, said: "I would urge visitors to the town centre to dispose of their unwanted food responsibly, and not feed these birds because of the problems they cause.
"Feeding the pigeons is technically littering and while we don't want to go down the road of fining people, if it persists and the birds continue to cause problems, we may have no other option than to look at fixed penalty notices, and ultimately prosecution."