St Edmund's Hospital's future to be debated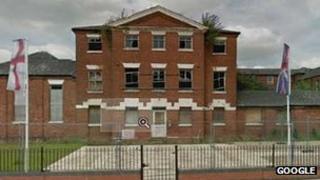 The public is to be asked for its views on how a derelict former hospital in Northampton should be redeveloped.
The St Edmund's Hospital site has been empty since 1998 and it had been earmarked for refurbishment as offices and retirement homes.
In March, English Heritage confirmed it was looking at an application to remove the building's Grade II-listed status.
Northampton Borough Council wants to "encourage everyone to join the debate" on the Victorian building's future.
'Architectural heritage'
The Wellingborough Road hospital was designed by the architect George Gilbert Scott as a workhouse for the poor in 1836 and became a hospital in the 1930s.
Next month, Northampton Borough Council's planning committee will discuss the building's future in response to the English Heritage consultation on its listed status.
It has invited local groups and organisations, including residents' associations, to discuss the historical and architectural significance of the building.
Councillor Tim Hadland, the cabinet member for regeneration, enterprise and planning, said Northampton's history was "precious".
"The planning committee will formally respond to an English Heritage consultation which could see the former St Edmund's Hospital no longer have the protection of listed building status," he added.
"I would encourage everyone to join the debate and let the committee know if you support or oppose the proposal."
Views should be submitted to the council by 31 May.