Northampton Saints' stadium goes solar powered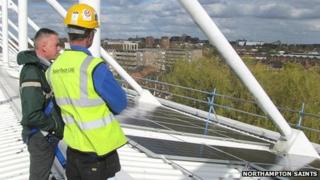 Northampton Saints has become one of the first major sports clubs in the UK to install solar panels to help power the ground.
The 200 panels are being put on the Burrda Sport Stand's roof at Franklin's Gardens.
Chief executive Allan Robson said as electricity prices were rising it "made sense" to look at alternative sources of energy.
Friends of the Earth said it hoped other sports clubs would follow suit.
Northampton Saints said the solar panels would contribute towards powering the stadium, training ground and administration offices and any leftover power would be sent to the National Grid.
The club carries out other green initiatives, including irrigating the team's pitches with water from a nearby lake.
Carbon footprint
Mr Robson said: "The Burrda Sport Stand was the perfect location and the technicians tell us they have rarely worked on a better site.
"The stand is one of the highest buildings in the area, so it doesn't come under that much shade.
"These solar panels have been installed with a long-term view and we're very happy to be reducing our carbon footprint in the process."
Friends of the Earth's energy campaigner Donna Hume said: "By generating their own solar energy the Saints are showing financial common sense as well as looking after the planet.
"It would be great to see more sports clubs and entire communities powering their workplaces and homes with clean British energy."
Other clubs that have installed panels at their stadiums include Saracens - which added them to its new Allianz Park ground - and Barnsley Football Club.