Northamptonshire police chief backs all-night drink ban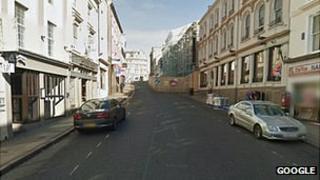 A chief constable has called for all-night alcohol sales to be banned in Northampton in an effort to curb crime.
Northamptonshire Chief Constable Adrian Lee said he wanted an Early Morning Restriction Order (EMRO) to be imposed.
He said it would mean licensed premises and shops could not serve alcohol after 02:00 or 03:00 BST. Some currently stay open until 06:00.
Critics said an EMRO could "lead to the downfall of entertainment in Northampton".
Mr Lee, who is in charge of the Association of Chief Police Officers' (Acpo) alcohol licensing group, has been looking at how forces deal with alcohol abuse and crime reduction across the country.
He has backed the measure proposed by Northampton Borough Council's licensing committee to limit alcohol sales overnight.
Crime rise
Police in Northampton said there had been "significant" rises in crime after 03:00 BST since licensing laws changed in 2005.
Mr Lee said venues opening until 06:00 BST placed a strain on resources.
He said: "My personal view is that the current licensing arrangements don't meet the needs of the licensees, the public or the police and the health service.
"So through an EMRO we'd be restricting licensing to either two or three in the morning, moving the business earlier.
"But potentially, because we do this through an EMRO, everybody has to do it and it ensures a level playing field for all the licensees."
'Losing trade'
A petition against the order has been organised by licensing trade workers.
Club DJ Simon Thomson, who works at Elysium nightclub in Horseshoe Street, said the earlier closing of the town's nightlife earlier would lead to customers going elsewhere.
"The country's licensing hours are for 24 hours, so don't come in and change those in Northampton - don't make us the guinea pigs," he said.
"The thing that concerns me is that we'll be losing trade to other places likes Peterborough, Milton Keynes and Birmingham."
Grant Clarke, duty manager at NB's nightclub in Bridge Street, said: "We are opposed to it but it may bring people into the town earlier.
"We are trying to look at the positives as there is nothing we can do as an independent club."
Northampton Borough Council's licensing committee is due to consider at a date yet to be fixed the results of the consultation with business owners, police and East Midlands Ambulance Service.