Northampton rat-run 'car trap' ignored by drivers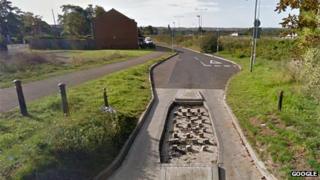 A traffic control scheme on the edge of Northampton has failed to take a bite out of motoring offences in the town.
Part of the road in Hermitage Way, Wooton, features metal teeth in a pit designed to stop cars using the road as a rat-run to the A45 dual carriageway.
The chicane is supposed to allow only buses to pass, but monitoring by police over a week in April revealed 822 vehicles drove through the site.
Only 200 were buses, indicating some 600 driving offences.
A Northamptonshire Police spokesperson said: "This is clearly unacceptable, but we hope the words of advice we have been giving motorists will have had an impact.
"We will now be carrying out enforcement - that is, issuing tickets and reporting drivers for the offences identified."
The chicane was in place when Northamptonshire County Council adopted the road 18 months ago.
A spokesman said: "The measure is necessary to stop vehicles using Hermitage Way as a shortcut. Blocking the road to through traffic would present issues as the road is on a bus route.
"We will work with the relevant councillors after the elections on 2 May to try to find a solution to this issue."