Mark Vevers jailed for gunpoint robbery in Northampton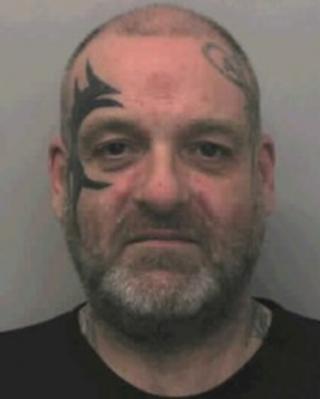 A man has been jailed for luring a loan company worker to his Northampton home and robbing her at gunpoint.
Mark Vevers, 50, of Bouverie Walk, admitted robbery, false imprisonment and illegally owning an imitation gun.
Northampton Crown Court heard the victim was "in fear of imminent death" and was forced to hand over the £485 she was carrying.
Vevers, a wheelchair-user with one leg, was sentenced to six-and-a-half years in prison.
The court heard he had borrowed £300 from a company called Loans At Home and their representative called for him on 25 January to collect a repayment.
He claimed a friend of his also wanted to take out a loan and would be coming to the house.
After waiting a while the woman tried to leave, but Vevers blocked her exit and produced the handgun.
She handed him the money and gave him her debit card and Pin number.
Vevers later withdrew £300 in cash from the woman's bank account.
After she managed to leave his house, the woman reported Vevers and armed police arrested him at a property on Melbourne Walk. They found the imitation gun in grass nearby.
Vevers told police he needed the money to pay off a man who was threatening his daughter.
Sentencing him, Judge Richard Bray said: "You lured the victim into your home and she must have been absolutely terrified and in fear of imminent death.
"You were quite prepared to use the victim as a pawn."
Speaking after the court case, Det Con Cathy O'Connor, from Northamptonshire Police, said she was "delighted" with the sentence.
"Although the gun was an imitation firearm, the victim did not know this," she said.