Fairline Boats expands Corby production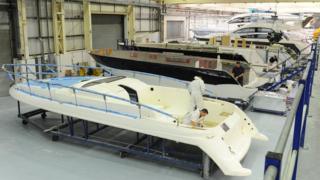 A Northamptonshire yacht-building company, which laid off 200 people in the last two years, has opened a new production line at a cost of £2.8m.
Fairline's investment at Corby means it can increase the number of models built there from eight to 15.
The company, which was taken over in 2011, said it would improve efficiency which it hoped would mean no further job cuts were needed.
Fairline employs 700 people at its plants in Corby and Oundle.
The firm now has two assembly lines at Corby.
'Faster' production
Rob Billington, manufacturing director in Corby, said: "To build seven different models down one assembly line, we've done a lot of standardisation on the boats to ensure we can produce a 50ft (15m) flybridge boat and the next day produce a sports Targa 38ft (11.5m) boat.
"This assembly takes 27 days and that's the fastest we've ever produced a boat."
The company made 300 boats in 2007, but that dropped to 140 in 2012.
Fairline was taken over by Better Capital and the Royal Bank of Scotland.
Alistair Schofield, Fairline's chief executive, said: "We've done an awful lot of work to make sure we can build boats profitably.
"I'm confident this business will have better times ahead.
"2013 will probably continue to be fairly flat, but we'll start to see it pick up in 2014."