Corby councillors accused of Thatcher 'disrespect'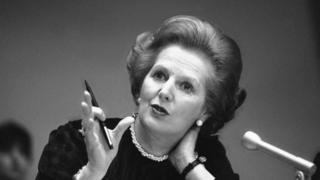 Labour councillors in Corby have been accused of "offensive conduct" during Conservative tributes to former Prime Minister Margaret Thatcher.
Conservative members held a minute's silence at Thursday's borough council meeting and condolences were paid to the Thatcher family.
Councillors who felt the ex-PM's policies had damaged Corby walked out.
Conservatives said some councillors sniggered, but this was denied by Labour councillors.
Deputy leader of the Conservative group at the Labour-run council, Rob McKellar, said on Friday: "After a good night's sleep I feel maybe we should have kept to the high ground but we were shocked over the deeply offensive conduct.
"I was paying tribute to Baroness Thatcher's family and it was not a political address.
"I spoke about her strengths and whatever people thought of her they could not ignore her and they would certainly not forget her."
'No sniggering'
He singled out Labour councillor Mary Butcher who he said led a walkout during his speech.
Mrs Butcher said she had not been disrespectful and on Tuesday attended a minute's silence at a cabinet meeting.
"My husband and father lost their jobs during the Thatcher years and although this was a long time ago, and the town had picked itself up, I felt I could not take part," she said.
Mrs Butcher said she went into the council chamber after the minute's silence, but then Mr McKellar began speaking.
"I walked out and others followed me but I did not hear any sniggering or felt there was any disrespect.
"In fact, I respect her as a woman, mother and grandmother but in conscience I could not stay and people should respect this.
"People are still suffering the effects of her policies," she said.