Northampton sports ground floods in water mains burst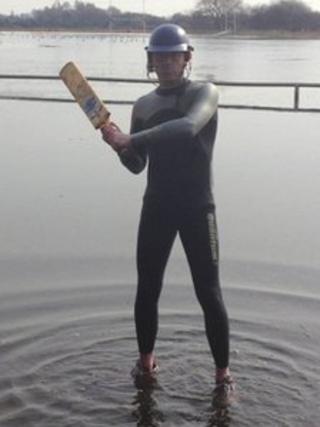 Sportsmen in Northampton are angry after their pitches flooded for a second time in two years after a water mains burst.
The fields at Rushmere Road are used by cricket and rugby teams who have been forced to cancel games and a rugby festival, expected to attract hundreds.
An Anglian Water spokeswoman apologised and said the burst should be fixed later this week.
However, the water could take some time to drain from the pitches, she added.
The fields flooded when the 68cm (27in) water main burst next to the Rushmere Road site.
Members of the Old Scouts Rugby Club and Bold Dragoon Cricket Club, who share the ground, said a similar leak flooded the pitches in March 2011.
Cricket club member Andy Davies claimed the flood was "due to incompetent repairs of the previous incident".
"We calculate there are 15 million litres of drinking water on our field. It is still pouring out.
"It's a colossal waste."
Emma Staples, from Anglian Water, said: "We have been on site to carry out emergency repairs since last week, but with one of our largest, high pressure mains running four metres underground - approximately the height of a double-decker bus - this is a complex job that cannot be rushed.
"We recognise this isn't the first time these fields have flooded and we're genuinely sorry for that.
"However, with 40,000km (25,000 miles) of water pipes under our region it's inevitable that some repairs will always be needed."
She said while the current leak was being mended, the company would carry out "further investigations to minimise the risk of this happening in future".