Billing Aquadrome: Girl, 2, found in lake in 'stable condition'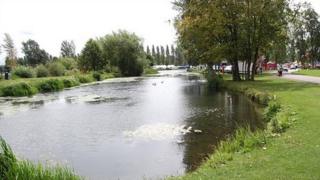 A two-year-old girl who was critically ill after being found in a lake at a Northamptonshire holiday park is now a stable condition, police have said.
The girl was taken to hospital after she was discovered in water at Billing Aquadrome on 10 March.
Police said she had been missing at the park for a short time and it appeared she had entered the lake by accident.
They added she was now in a stable condition, but was expected to remain in hospital for continued treatment.
Billing Aquadrome staff administered CPR to the girl before paramedics arrived.