Wellingborough town centre development rejected by council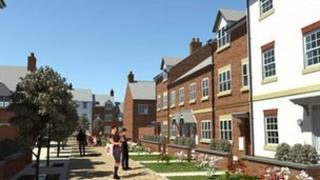 A plan to build shops, a multi-storey car park and 133 homes in Wellingborough town centre has been rejected.
Keepmoat Homes had an agreement with Wellingborough Borough Council to redevelop the Jackson's Lane site off the High Street.
However, councillors have turned down the multi-million pound scheme.
The town's chamber of commerce said an alternative supermarket proposal was its preferred option.
The council's officers had recommended that planning permission should be granted.
Paul Bell, the Conservative leader of the council, said: "It was rejected because of the views of the Chamber of Commerce, the Civic Society and a number people who lived nearby who objected to the size of the proposed housing.
"It doesn't stop the developer coming back to the council with a new scheme or going to the secretary of state to appeal against the decision.
"Many people will be aware a developer is talking about building a supermarket here and we're in discussions with them as well, so we will see what happens."
Alan Piggot, president of Wellingborough Chamber of Commerce, said he was "absolutely delighted" with the decision.
"It would have been the death-knell for Wellingborough," he said.
"We don't want a housing estate in the town centre with reduced parking.
"The supermarket proposal from Quora is much better because it features an Asda, two office blocks, six other shops and it's bringing people back to the High Street, which is what it needs."
The council has already spent about £3.5m on compulsory purchases and built a £1m road into the site the area ahead of any redevelopment.