Northampton given £3.8m to help tackle bottlenecks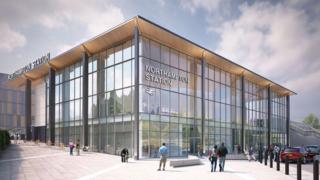 Almost £7m is to be spent on easing traffic congestion in the centre of Northampton.
The Department of Transport has pledged £3.8m towards the county council's £6.8m scheme to increase capacity on the southern inner ring road.
The council wants to reduce bottlenecks and improve access to the Waterside Enterprise Zone, which includes Castle Station.
Work is due to begin in April, with the project completed by 2015.
It will be carried out at junctions on Black Lion Hill, St Peter's Way, Green Street, Tanner Street and Towcester Road.
Councillor Andre Gonzalez De Savage, cabinet member for infrastructure, said: "This is a very important scheme in that it helps unlock access to the Waterside Enterprise Zone and also, from the new railway station, creates a suitable gateway into Northampton town centre.
"In the next few months we will start to see a great deal of work around this area of the town centre and rapid improvements."
The scheme is one of 10 to receive a share of £25m funding from the government's Local Pinch Point fund.
The Transport Secretary Patrick McLoughlin said: "Tackling bottlenecks on the highway network will help keep get the country moving and the economy growing."