Weetabix ordered to remove children's game app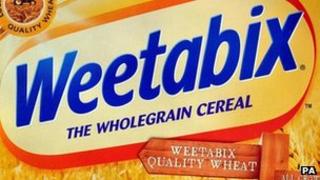 Weetabix must remove a children's game app over concerns it could make youngsters feel "inferior" for not eating the cereal.
The Advertising Standards Authority (ASA) said the WeetaKid app prompts such as "What?! No Weetabix?!" were persuasive and negative.
The Northamptonshire-based firm said it took "great care" to ensure that its marketing complied with regulations.
There had been a complaint that the app could make children feel "unpopular".
Professor Agnes Nairn, from the Family and Parenting Institute, said the app "exploited the credulity, loyalty, vulnerability or lack of experience of children by making them feel inferior or unpopular for not buying a product".
ASA ruled that the app, which included two games featuring the WeetaKid character, must be taken down from the Weetabix website and must not appear in its current form again.
It added that it must ensure that any marketing aimed at children should not exploit them.
Weetabix acknowledged the game's messages and actions might have an impact on children's food preferences, but said that in itself did not breach advertising regulations.
In a statement, the company said: "All of our cereals are recognised by the Food Standards Agency as not high in salt, fat or sugar and are therefore deemed to be acceptable for marketing to children.
"We do take great care to ensure that all our marketing complies with or exceeds our regulatory responsibilities."
The firm added it was willing to accept the ASA's ruling.