Paul Gascoigne Northampton event 'could raise thousands'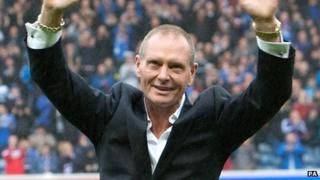 Paul Gascoigne's last public appearance before entering a rehab centre for treatment could still raise thousands of pounds for charity.
Fears for the health of the former England star, 45, were raised after he sobbed and shook during a question-and-answer session in Northampton.
Gascoigne cut short his appearance at the Park Inn in aid of a cancer charity and a football club academy last month.
Both organisations said they still expected to benefit from the event.
Public shock at Gascoigne's condition at the event on 31 January prompted his admission to a clinic in the United States for treatment for alcohol addiction.
'Stunned by appearance'
The former England footballer was placed in intensive care in a hospital shortly after beginning treatment at the centre in Arizona, but is reported to be making a recovery.
The Northampton event, attended by about 500 people, is expected to raise more than £5,000 for Wellingborough-based charity Crazy Hats and for Northampton Town FC's academy.
Glennys Hooper, founder of Crazy Hats, said: "As a small charity, we've never been able to have such a high-profile person, and we're very grateful to the organisers, Business Times.
"None of us knew what kind of state Paul would be in. Two of our trustees were there and they were quite stunned by Paul's appearance and that he was allowed to go on stage.
"We wish him well. We hope people do get behind him and that he does get better."
Miss Hooper said the charity had not heard from the organisers since the event, but was confident of receiving a share of the proceeds.
A spokesman for Northampton Town FC said: "Gazza was not well on the day, but he insisted that he still wanted to appear as planned.
"When it was clear he was unable to continue, his particular part of the evening was cut short."
A spokeswoman for Business Times said it would not be known how much the event had raised for charity "for a couple of weeks".