Northampton's clubs face early morning alcohol ban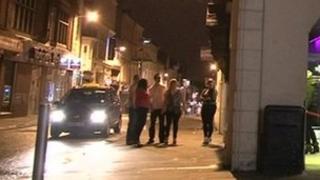 Clubs and pubs in Northampton could be banned from selling alcohol between midnight and 06:00.
Northampton Borough Council may introduce an early morning alcohol restriction order (EMRO).
An EMRO could "help tackle problems associated with late night drinking" in the town, according to the council.
Its leader, David Mackintosh, said the council would work with the police and licensed premises to see if "an EMRO could work for Northampton".
The measure is one of a number of new powers granted to councils under the government's national review of licensing.
The ban on early morning alcohol sales will be considered at a meeting of the council's licensing committee.
Christopher Malpas, chair of the committee, said: "We will be making a decision based on the evidence placed in front of us."
Northamptonshire's police and crime commissioner, Adam Simmonds, said: "I am very keen to work with partners on making the night time economies safer and any powers or policy which enables that to happen is a good thing."
If the ban is introduced it would not apply to New Year's Eve.