Corby's Glasgow Rangers Supporters' Club closes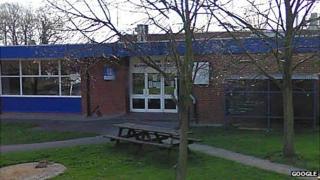 A Glasgow Rangers' football supporters club, once one of the most popular outside of Scotland, has closed.
The club on Rockingham Road, Corby, Northamptonshire, shut on Sunday and is now likely to be sold off for housing, estate agents Andrew and Ashwell said.
Thousands of Scottish people moved to Corby in the 1930s to work at its steel mills and the supporters' club became a popular destination for football fans.
It is believed in recent years it suffered from a loss in trade.
Mike Allwood, a director at Andrew and Ashwell, said: "It's a shame, it was once a landmark business in Corby.
"The club themselves decided to cease trading."
Mr Allwood said was "highly unlikely" it would reopen as a club.
'A shocker'
He said the site - which has not had its price revealed - had already developed interest and was likely to be sold for housing.
No-one from the club was available for comment.
Derek Spence, member of the Northampton Loyal Rangers Supporters' Club, said: "We often used to meet up at games. It's a bit of a shocker to be honest. They were always one of the biggest clubs in England."
The club often ran trips to games, with 600 members attending Rangers' UEFA Cup final match with FC Zenit Saint Petersburg in Manchester in 2008.
Rangers went into administration last year and were forced to start up again in the Scottish Third Division.