Northampton metal marking set to thwart thieves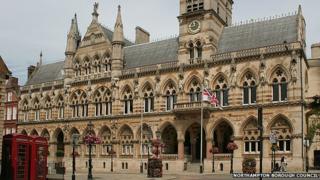 Two historic buildings in Northampton are to trial a new permanent metal marking technology in a bid to combat metal theft.
The lead roofs on the town's Guildhall and St Peter's Church, in Marefair, have been engraved with markings that can be seen by the naked eye.
If stolen, the markings would allow police to identify the origin of the metal when it is seized.
English Heritage said the system would help in the heritage crime battle.
The technology "scatters" the roof metal with engravings that detail the ownership and location of the material so it can be checked against a national database.
The system's developers said it was being piloted in Northamptonshire on the advice of English Heritage because the area had seen "significant metal theft".
Dr Dale Dishon, English Heritage's principal inspector for Northamptonshire, said: "Theft of metal from historic buildings is a serious concern and we welcome the development of any non-harmful deterrents which can help in the battle against heritage crime.
"The advantage of this new system is that it's visible to the naked eye so that makes it easier to apprehend criminals as it doesn't require a complex lab process to find the markings."
The system has been developed with the Institute of Materials Minerals and Mining, an organisation that develops materials technologies.
Peter Aiers, of the Churches Conservation Trust, said: "St Peter's Church has suffered at least two lead thefts even though it's located in the middle of Northampton.
"We are always interested in experimenting with new technologies that aim to prevent the loss of lead on church roofs. It's not just the value of the lead but the damage caused by its removal that concerns us."
Dr Dishon said the metal theft was a "uniquely English problem because our Medieval churches were roofed in lead".
She added: "It's what makes them so attractive to thieves, which is why we're having to think of new ways to combat the problem."