Northampton family shoe shop closes after 52 years of trading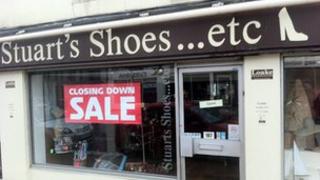 A family-run shoe shop in Northamptonshire has been forced to close after 52 years of trading.
Stuart's Shoe shop on Wellingborough Road in Northampton said a decrease in sales on the High Street had forced it to make its operations web-based.
Owner, Jane Collins, 57, said: "The bigger shops seem to be getting bigger and the smaller shops get swept by the wayside."
The idea for the shop came about after World War II, when Joan and Stuart Stanley saw an opportunity to put an advert in the back of the Daily Mirror.
"My dad who used to work on Fleet Street thought that because there were no big shoe stores in those days he could set up a mail order business," said Mrs Collins.
The business took off but after a while the Stanley family tired of sending parcels by mail so they decided to get rid of their stock at Northampton Market.
Mrs Collins added: "When my parents went on the market they were surprised at how well the shoes sold."
The shoe store then moved onto Wellingborough Road. It started as a small shop but then expanded after they took over two shops next door.
"We used to have a coach trip of ladies come from Luton, they would usually buy out the whole shop," she said.
Mrs Collins recalls the feature film Kinky Boots which tells the story of Steve Pateman who had to find a creative way to keep his family's shoe business going in Earls Barton, Northamptonshire.
A drag queen comes to the rescue of Charles Price in the film and helps him design a pair of kinky red boots for men.
"After the film, I wrote to Steve asking to buy a pair but I never heard back from him," said Mrs Collins.
"Then by chance I was telling my story to a salesman who was selling me some CCTV cameras and it turned out that he used to be Steve's manager.
"Within two weeks the boots arrived at the shop and have been part of our display ever since," she said.
Mrs Collins, who has two daughters, said she felt it was the right time to move on.
"We waited for a little while to see if my daughters who studied fashion wanted to take over the business, but they are setting up in the jewellery business."
Stuart's Shoes will close its doors on 21 July.