Job losses as leisure centre in Northamptonshire closes to replace roof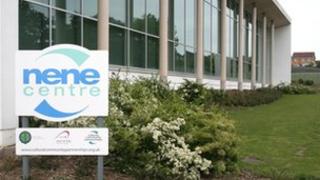 More than 55 people could lose their jobs when a leisure centre in the east of Northamptonshire closes for nine months.
The Nene Centre in Thrapston is due to shut in September so that its leaking roof can be replaced.
The centre has had problems with the roof over the eight years that it has been open.
East Northamptonshire District Council said it would spend £2m on the centre and the Pemberton Centre in Rushden.
'Long term future'
Lisa Hyde, head of customer and community services at East Northamptonshire Council said: "Unfortunately we cannot have a wage bill for nine months for people who won't be working at that time."
The council decided to close the Nene Centre after bringing in experts to assess the building.
"We brought in roof specialists and they have advised the complete replacement of the roof." said Mrs Hyde
The council said that it intends to recover the cost of replacing the roof through legal proceedings.
Councillor Steven North, leader of the Conservative-run East Northamptonshire Council, said: "The council apologises for the inevitable inconvenience this will cause customers but the roof work is essential to ensure the long term future of the Nene Centre."
Work will include having new steam and sauna facilities and buying more gym equipment.
However work at The Pemberton Centre would be done while the centre remains open.
"We have taken the opportunity during the nine months to make some improvements to both centres to attract more customers," said Mrs Hyde.