Two people in hospital after chemical leak in Daventry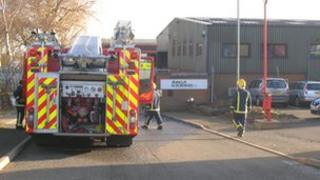 The company at the centre of a chemical leak in Northamptonshire has said it is a "mystery" why two workers collapsed while working with "non-hazardous chemicals".
AmegA Sciences based on the Royal Oak Estate in Daventry said the staff were taken to Northampton General Hospital.
John Walton, a director at AmegA, said "The two employees were diagnosed with low haemoglobin levels."
The two men are under observation but are expected to make a full recovery.
Both Northamptonshire Fire Service and the company's laboratory are investigating what happened.
AmegA sciences make agricultural products such as fertilisers and pesticides for farmers, golf courses and football grounds.