Work to start to restore abbey gardens in Northampton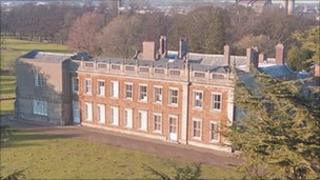 Work to restore the grounds of an 850-year-old abbey in Northampton is to start next week.
Northampton Borough Council said its scheme aimed to restore the ornamental water gardens at Delapre Abbey to their "original glory".
It will be funded through the council I Love My Park fund of £250,000.
The Delapre water feature is thought to have been built by the last owner Miss Bouverie between 1925 and 1937, said a council spokesman.
Located to the east of the walled garden, in its heyday the feature was made up of a number of cascades and ponds constructed using local stone.
'Much loved park'
Over the decades the water gardens have fallen into disrepair with many of the original details buried under the accumulation of earth that has built up.
Council contractors will begin restoration work to re-establish the water garden.
The initial work will cost about £45,000 and take about six weeks to complete.
It will include emptying water out of the main pond, clearing debris, digging trenches for the electrical supply that will feed the pond system as well as the installation of a water pump system.
Council leader David Palethorpe said: "Delapre Park is one of the town's much loved parks and it is wonderful to see this original feature being brought back to life."