Rockingham farmer concerned about dry spell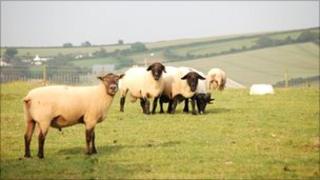 A livestock farmer in Northamptonshire has raised concerns about continuing drought conditions in the county.
Bob Rutt, from Cotton Farm in Rockingham, said his land has cracks the size of fists.
He said the warm dry weather was stopping grass from growing so cattle were not able to go out to pasture.
The farm has been forced to use its winter supply of hay to feed livestock.
"We took the stock on to the mowing fields on 1 April but it hasn't grown." said Mr Rutt.
He said the farm has had to sell off a quarter of its livestock to survive the coming winter.
Mr Rutt said there in the hot weather the animals had to be checked more regularly because they were more prone to infections.
He said the other main problem was that there had been an explosion of Ragwort, a weed that grows very quickly and can take over an area. Ragwort is dangerous to cattle and horses.
"Everywhere that I'm looking at over the Welland valley and have been in the last week is covered with Ragwort." said Mr Rutt.
The Environment Agency has been monitoring the situation.
David Hawley said: "In terms of rainfall, Northamptonshire has been one of the driest counties in the country this year."