Pastor of the Silverstone circuit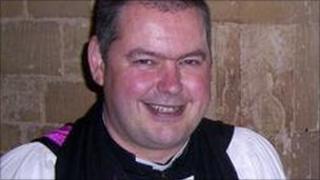 A new reverend has been appointed to become the vicar of the Silverstone circuit.
Rev Paul McLeod, from Northamptonshire, is in charge of the Whittlewood benefice.
The benefice is made up of five parishes - Abthorpe, Slapton, Whittlebury, Paulerspury and Silverstone.
Rev McLeod will also be Chaplain to the British Racing Drivers Club which owns the circuit.
"I've actually always had an interest in motorsport and have raced myself so this new role is ideal for me," said Rev McLeod.
The job was advertised in motorsport magazines as well as in the church press.
"This job is really important and I enjoy working at the circuit, dealing with the visitors and even famous people," said Rev McLeod.
The new reverend will complete the usual demands of a parish priest, like conducting funerals, baptisms and weddings.
"One of the first things I had to do was bless someone's new home and I've just received a phone call about doing a funeral service, so I am still doing the normal job of a priest," said Rev McLeod.
Rev McLeod regularly watches motorsport racing and is always on call to respond to any requests for help on the circuit.
"I've been called 'Speedy Rev' which is nice, but I'm here to help people enhance their lives spiritually whether it be their work, home, family life," said Rev McLeod.