Ex-boxer Herbie Hide may appeal drugs conviction after Tulisa trial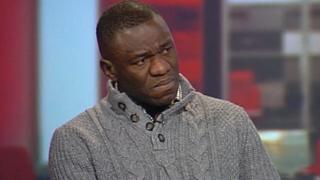 The lawyer for ex-boxer Herbie Hide says they may appeal his drugs conviction after the collapse of the trial of celebrity Tulisa Contostavlos - also involving a Sun on Sunday sting.
In November Hide was jailed for 22 months after being filmed by Mazher Mahmood setting up a drug deal.
Ms Contostavlos' trial collapsed when the judge said he thought undercover reporter Mr Mahmood lied in court.
Lawyer Mahtab Aziz said they had concerns over the Hide sting operation.
Hide, 42, pleaded guilty to conspiracy to supply cocaine in November last year after he was filmed by undercover Sun on Sunday reporters setting up a drug deal.
Judge Mark Lucraft told Cambridge Crown Court he had reduced the sentence partly because of the "sting element".
Counsel for Hide, of Bawburgh, near Norwich, questioned the use of "entrapment" tactics to target Hide.
Mr Aziz said the fact that Judge Alistair McCreath told Southwark Crown Court that the case against Ms Contostavlos could not "go any further" because there were "strong grounds to believe" that Mr Mahmood had "lied" at a pre-trial hearing also put a question mark over Mr Mahmood's reliability.
He said: "The collapse of Tulisa's trial is a very interesting outcome and paves the way for a possible appeal of conviction for my client Herbie Hide who was similarly the subject of a Sun on Sunday sting by Mazher Mahmood in January/ February 2013."
After the Hide hearing The Sun, in a statement, said Hide's sentence was a "successful conclusion to a legitimate investigation".