Norfolk PCC Stephen Bett could still be paid despite 'stepping aside'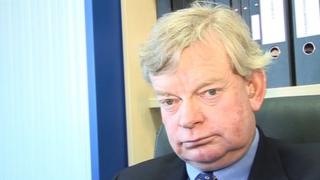 A police and crime commissioner who has stepped aside during an investigation into his expenses might still be paid his £70,000 salary, it has emerged.
The Independent Police Complaints Commission (IPCC) is to oversee a police probe into mileage claims made by Norfolk PCC Stephen Bett.
The Home Office has confirmed Mr Bett is still entitled to take a salary, even though he will not be working.
Mr Bett's office would not say whether he would continue to take his salary.
A spokesman for Mr Bett said he was unable to comment further at the current time because he was "still taking legal advice on next steps".
'Huge reluctance'
Mr Bett paid back more than £2,700 for his trips between home and work after the BBC revealed he had claimed more than £3,000.
He said he would temporarily step aside with "huge reluctance".
A spokeswoman for the Home Office said despite the fact he had stepped aside, Mr Bett remained "legally obliged" to deal with two key functions of PCCs: hiring and firing a chief constable and setting budgets.
In terms of how the other requirements of his role were met, she said, those were down to Mr Bett.
The Home Office said it understood Mr Bett's deputy Jenny McKibben would take over in his absence - though this has not been confirmed by his office.
In November the BBC revealed Mr Bett had claimed for 96-mile round trips from his home in Thornham, near Hunstanton, to police offices in Wymondham.
The issue was then referred to the IPCC by the Norfolk Police and Crime Panel, which is responsible for scrutinising and supporting the work of the commissioner, following two complaints from the public.
The IPCC has now confirmed it will oversee an investigation by the City of London Police. It said it will examine Mr Bett's expenses from November 2012 to October last year.
In January he said he had paid back an amount calculated by independent auditors.