Norwich Cathedral peregrine falcon's third chick hatches
28 April 2014

From the section

Norfolk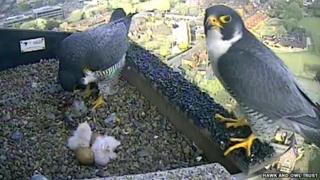 Three chicks have hatch for a pair of "experienced" peregrine falcon parents nesting on Norwich Cathedral's spire, with a fourth expected within hours.
The first chick hatched on Saturday evening, with the second and third arriving within three hours of each other on Sunday afternoon.
A hole has appeared in the fourth egg's shell and could hatch in full by late-afternoon on Monday, said an expert.
A webcam on the nest has been viewed more than a million times.
Dave Gittens, from the Hawk and Owl Trust, has been monitoring the nest 75m (246ft) above the ground since the first egg arrived in March.
He said the chicks "appear well" but were now "vulnerable".
"There are some lesser black back gulls in the area and if the opportunity comes they'll swoop in and swallow a chick whole," he said.
"We've also had some peregrine intruders over the last few weeks and there's still a possibility they'll try to dispatch the chicks to take possession of the nest.
Hungry birds
"The chicks won't feed too much for the first couple of days as they have residual nutrition from the egg sac, but come Tuesday we'll start to see anything from six to eight small feeds a day, this will then fall to just four, more substantial, feeds a day until they fledge in about a month's time."
The decline in Pperegrine falcon numbers during the 19th and 20th Centuries has been blamed on illegal shooting and the use of certain pesticides on farms.
There are currently fewer than 1,400 breeding pairs in the UK.
Four chicks hatched in 2013, the second brood in the city since 2011 and among the first in 200 years.
A watch-point at the cathedral, run by the Hawk and Owl Trust, is open until the end of June.