Norfolk wind turbine approval quashed in High Court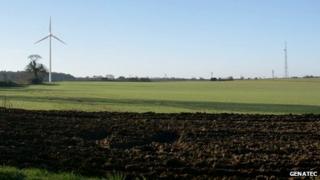 A decision to build a wind turbine "in unspoilt landscape" in Norfolk has been overturned by the High Court.
The 86.5m (284ft) turbine at Pond Farm in Bodham was rejected by North Norfolk District Council in August 2012, after it received 1,400 objections.
It was approved by the planning inspector on appeal in April.
Deputy High Court judge Robin Purchas, QC, ruled the planning inspector did not comply with planning law relating to landscape and heritage sites.
The turbine was to be sited near Cromer Ridge, one of the highest points in north Norfolk.
There are a number of listed buildings in the area, including the Jacobean Grade 1 listed Barningham Hall and Baconsthorpe Castle.
Wider implications
The district council had argued the inspector's decision in favour of the turbine flew "in the face of the will of the local community".
Council members feared that allowing the turbine could have wider implications for north Norfolk's economy by opening the door to more onshore wind turbine applications, damaging the tourist industry in the area.
Farmer David Mack, who operates Pond Farm with his family under the name Genatec, argued the turbine would generate energy for 665 homes and be "a good asset to the community".
But Judge Purchas ruled the inspector, who had overturned on appeal the council's decision to reject the turbine, had not complied with part of the Planning Act which required him to have special regard to the desirability of preserving the settings of listed buildings.
The judge said had the inspector complied with the section he could still have come to the same overall decision, but it was not possible to say he would have "inevitably" done so.