King's Lynn incinerator: Council 'alarm' over decision delay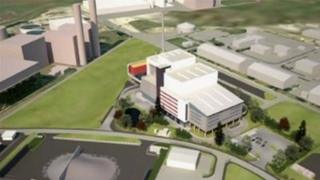 A council leader said he was "alarmed and disappointed" at a delay to a government decision over a controversial waste incinerator.
Communities Secretary Eric Pickles was due to respond to plans for the proposed King's Lynn plant this week.
George Nobbs, Labour leader of Norfolk County Council, said the delay posed a "considerable, immediate" risk.
The Department for Local Government and Communities said: "A decision will be made by ministers in due course."
Ministers were carefully considering evidence and detailed representations from a wide range of parties, a spokesman added.
The council has agreed to build the £500m incinerator at Saddlebow, King's Lynn, with Cory Wheelabrator but the project has attracted fierce opposition on environmental and economic grounds.
'Clock is ticking'
Planning consent was granted in June 2012 but the decision was "called in" by Mr Pickles, who could decide to withhold permission.
He had been expected to announce his decision on Tuesday but it emerged this would be delayed.
Mr Nobbs wrote to Mr Pickles, saying: "If true, this now presents us with very real and immediate difficulties where our 2014-15 and budget planning is concerned."
He said the council's budget and financial strategy depended on Mr Pickles' decision, warning: "The clock is ticking fast."
If the project does not get planning permission, the council must pay between £26m and £31m in compensation.
"This level of uncertainty and risk is considerable, immediate, and very hard to work with," Mr Nobbs added.
Alternative waste scheme
He said the council had no choice but to assume the worst and consider further cuts to services.
News of the delay came as a company announced it had secured £100m in funding for an alternative waste scheme, backed by West Norfolk Council, creating 200 jobs.
Material Works wants to build a recycling plant to generate electricity and create building products from waste and hopes to submit a planning application in the next three months.
Managing director Robert Billson said it had identified two potential sites, within eight miles (13km) of King's Lynn.
"It's great news. This allows us to put the team in place and acquire options on our preferred sites," he said.
But David Harrison, cabinet member for environment, transport, development and waste at the county council, said the alternative scheme would use untried and untested technology and was years away from becoming a reality.
"We need a decision from Mr Pickles as a matter of urgency and it should be made on planning grounds," he said.
"The issue should not be confused by alternative technologies which may, or may not, come to fruition in the future."