Striking Norwich firefighters help Great Hospital alert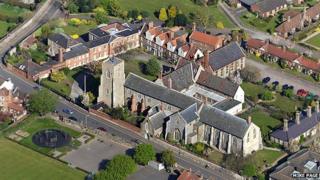 Firefighters striking over retirement and pensions left picket lines in Norwich to help tackle an alert at a 13th Century hospital.
The alarm at the Great Hospital, Bishopgate, in the city centre, was triggered at about 23:30 GMT on Tuesday due to an overheating frying pan.
Ten residents were evacuated to a communal area and parts of the building became smoke-logged.
Three pumps attended the incident to help ventilate the building.
The strike, from 18:30 GMT on Tuesday to 00:30 GMT on Wednesday, was the eighth in the current dispute by union members in Wales and England.
A spokesman said because there was "potential serious risk to life", striking firefighters from Sprowston and Carrow voluntarily turned out to provide support.
Dan Roper, Norfolk County Council cabinet member for public protection, said: "This is the result of local agreement... and I am sure that this responsible approach will be appreciated by Norfolk people."
The Great Hospital, known as St Giles' Hospital until the Dissolution of the Monasteries in the 16th Century, was established in 1249 to help elderly clergy, poor scholars and the sick poor.
The site also includes a medieval refectory and Victorian Hall, as well as St Helen's House, built by Thomas Ivory in the 18th Century.
Today it continues to provide sheltered housing and care for people.