West Anglia's new trains stay but new line hopes fade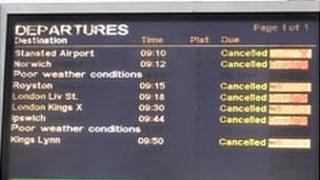 Good news for rail commuters on the West Anglia route because they get to keep their brand new trains.
Rail Minister Stephen Hammond gave the assurance during a debate called by Sir Alan Haselhurst, pleading for investment on the line which runs from Liverpool Street to King's Lynn.
Mr Hammond acknowledged in House of Commons that the new trains had made a big difference to regular travellers: "These trains are modern, spacious, high performing, high capacity and highly reliable and they are widely recognised by passengers as a benefit and an increase in the service."
Doubts had been raised that the new carriages would stay on the route long-term if Stansted airport expands and the carriages are needed for airport users on the Stansted Express. We now know that the Stansted Express will not pose a threat.
Unfortunately, the news was not so good on new track, overcrowding, poor service and rising fares.
"What is absolutely incontrovertible is that there has been no investment in the line. That is the problem," said Sir Alan Haselhurst.
"I am a great believer in the railway that serves my constituents, and that is the one that is constantly forgotten. It has been forgotten since 1985 and something has to be done to reverse that position. Our line has simply not been favoured," added the MP for Saffron Walden.
There were also calls for the line to be upgraded to four tracks rather than two allowing more services to ease overcrowding on peak-time trains.
'Unbelievably expensive'
Mr Hammond said that might happen - but not any time soon: "It is a very busy two-track railway.
"Unfortunately, if we look at it in the short term, that is unbelievably expensive. The plans developed by BAA in 2007, when it ran Stansted airport and there was higher demand, merely to three-track a section of the route were estimated to cost between £800m and £1bn.
"At the moment, such investment would represent a significant portion of the government's rail investment budget."
In the shorter term though, Mr Hammond hoped that journey times might be reduced by improving level crossings.
At least the commuters will be standing in nicer carriages.