Downham Market: Townsfolk urged to ignore clowns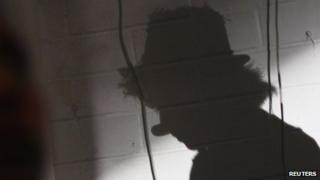 Police in Norfolk have again advised people to ignore any clowns they might see after a sighting in a second town.
A prankster dressed as a clown was spotted in Downham Market on Friday morning after two sightings in King's Lynn earlier this week.
Police have warned that the clowns may be trying to startle passers-by and have advised people not to react if they spot one.
The Downham Market clown was spotted at 08:15 GMT by two schoolboys.
He was seen in St Edmund's church yard and was described as wearing a blue and red "onesie" clown suit, a red wig and a white full-face horror clown mask.
'Keep sensible perspective'
The clown left in a white Transit-style van with metal roof rails fitted, police said.
Officers believe the clowns intend to scare people into running away, before chasing them for a short distance.
Similar clowns have been spotted in other towns, including Northampton, Burnley, Scunthorpe, Mansfield and Carrickfergus, in Northern Ireland.
Police said the phenomenon was being fuelled by social media and have promised to search for the clowns to offer "strong words of advice" - although they have stressed that dressing up as a clown is not illegal.
A Norfolk Police spokesman said: "We would reiterate that it is important to keep a sensible perspective on these incidents as nobody has been assaulted or hurt.
"The most effective way to behave if you are to see someone dressed up is to give no reaction."