Norfolk Minke whales killed by 'ship strikes'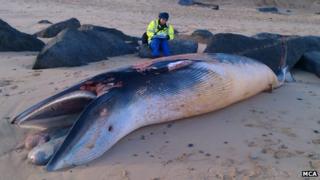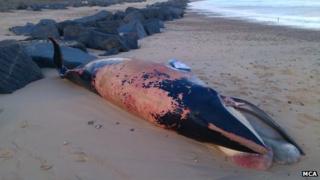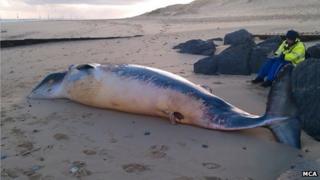 Two whales found dead on beaches in Norfolk just days apart were struck by ships, experts believe.
A 6m-long (19ft) minke whale was washed up on Sea Palling beach on Monday four days after a 7.6m-long (25ft) minke whale was discovered at Cromer.
It is thought they may have been attracted close to the shore to feed on a current abundance of herring.
Expert Rob Deaville described the deaths within days of each other as "very unusual".
Mr Deaville, project manager for the Cetacean Strandings Investigation Programme (CSIP) at London's Institute of Zoology, said post-mortem tests indicated that "both were ship strikes and it is very unusual to get two close together like that".
He said the whales were at greater risk of being killed because of "interaction with our activities" as they were coming closer to the coast for food.
Minke whales are an endangered species but of "least concern", according to the International Union for Conservation of Nature (IUCN).
Mr Deaville said the creatures are now "relatively common and doing fairly well" since a ban on commercial hunting.