Essex MP John Baron fights for full time soldiers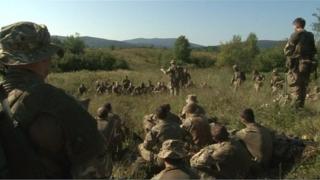 Voting against government plans to reorganise the army was not taken lightly by John Baron, Basildon and Billericay MP, who tried to delay the proposals until their impact could be properly discussed.
The government wants to cut 20,000 regular troops by 2020 while increasing the number of army reservists to 30,000.
John Baron's amendment to the coalition bill was born of conviction and he denies he's being disloyal.
"The bottom line is that sometimes you've got to rise above party politics and discuss issues of principle and I think this is one of them, particularly when you consider that defence is the first duty of government," he said.
"I think as an MP it's incumbent on you to speak out on matters that you think are important."
Mr Baron is worried the plan is being rushed through without proper scrutiny or debate and lots of MPs have been supporting him - much to the annoyance of ministers.
He argued: "We have a major change in defence policy and yet parliament hasn't had the opportunity to either vote on it or scrutinise any reports.
"We had a debate two weeks ago and the government could not muster one vote in its favour, in a general debate and that angered a number of people."
This is a big issue in our region which has a lot of army personnel.
Mr Baron told the House of Commons: "We risk an unacceptable capability gap which people will not thank us for".
Tory rebels
The government says the way we fight wars is changing and we don't need as many full time soldiers, but MPs believe it could be dangerous and there was concern over levels of recruitment.
Brian Binley was also on the list of Tory rebels.
The Northampton South MP was concerned about the effect on small businesses.
He told defence secretary Philip Hammond: "I know the damage when you take one man out of a five man team in an SME [small to medium enterprises] and I don't believe you've thought about this particular impact enough."
Mr Baron lost by 54 votes after most of our MPs supported the government.
Some rebels were bought off by last minute concessions, other MPs, like Sir Bob Russell, found a reason to vote with the government or like Bernard Jenkin, another Essex MP, didn't turn up for the vote at all.
John Baron has made a name for himself over this and he says he will keep up the fight.
There will be other votes on this issue over months to come and John Baron is saying this isn't the end of the matter.