Heatwave 'major fish kill' prevented in Norfolk river
19 July 2013

From the section

Norfolk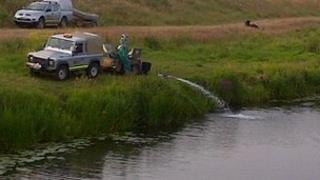 The recent hot weather almost caused a "major fish kill" in a Norfolk river, the Environment Agency has said.
Officers monitoring oxygen levels in the River Delph at Welney earlier this week, noticed a dip that posed a "significant threat" to fish.
Aerating equipment is being used to dose the water daily with hydrogen peroxide to increase oxygen levels.
A spokesman said "only a handful" of fish were known to have died but warned the situation "could get worse".
High temperatures forecast to continue were "likely to exacerbate the situation", and the agency is looking at other options to improve the quality and levels of dissolved oxygen in the river.
Ian Hirst, from the agency, said there were "tens of thousands" of fish in the river.
"It's very likely we could have seen more than a thousand fish dead instead of just a few," he said.
The agency has asked river users to look out for signs of fish in distress, either gasping at the surface or swimming abnormally.