Freddie Mercury Norwich gorilla new design agreed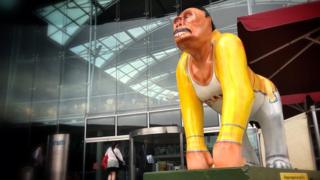 Freddie Mercury's estate has agreed a new design for a gorilla sculpture that was painted as the Queen singer.
The gorilla was removed from public view in Norwich this week because of a copyright complaint.
Queen guitarist Brian May has said the estate was "quite within its rights" to request its removal.
Organisers of the Go Go Gorillas art trail said they had been in discussions with the singer's estate and a new design would be revealed next week.
The sculpture, named Freddie "Radio Go Go" Gorilla, was one of 53 life-sized glass fibre gorillas, placed around the city centre as part of the summer-long exhibition.
'Crude and insulting'
It was removed from outside The Forum in Millennium Plain on Monday after organisers were contacted by Queen's manager Jim Beach on behalf of Mercury's estate.
It claimed the suit painted on the gorilla breached copyright.
Writing on his blog Bri's Soapbox, May said he would not comment on the artistic merit of the sculpture but that a "number of people thought it was a crude and insulting effort".
Martin Green, project manager of Go Go Gorillas, said: "We are dedicated to putting a new gorilla on the streets so that residents of Norwich and visitors can continue to enjoy the trail, helping to raise funds for Norfolk-based charity Break, changing young lives, and the Born Free Foundation helping lowland gorillas.
"The Go Go Gorillas team have been speaking directly to the Freddie Mercury Estate and have agreed on a new design for Freddie 'Radio Go Go' Gorilla.
"The artist is currently working on the design and it will be ready to be revealed next week so that it can again take its place on the trail."
He said the agreed design was yet to be signed-off by the estate.
After the trail ends in September, the sculptures will be auctioned off in aid of the charities at an event hosted by Break's patron, television presenter Jake Humphrey.