King's Lynn incinerator: Vote on ditching scheme delayed
17 June 2013

From the section

Norfolk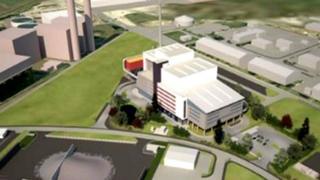 A council vote on whether to ditch plans for an incinerator in Norfolk has been put on hold, while it reviews the cost of pulling out of the contract.
Abandoning the incinerator scheme near King's Lynn could see termination fees of up to £90m having to be paid to contractor Cory Wheelabrator, a council report said.
The new Labour, Lib Dem and UKIP administration is reviewing the cost.
A vote on the scheme was to be held on Monday, but has now been postponed.
The contract for the incinerator was signed by the previous Conservative administration at Norfolk County Council which lost power in the May elections when UKIP became the second largest party - partly on a platform of opposing the incinerator.
A final planning decision is to be made by the Secretary of State for Communities Eric Pickles following a public inquiry.
'Absolutely catastrophic'
A report to the council in May found that termination of the contract, because of a planning failure, would trigger a compensation clause payment to Cory Wheelabrator costing up to £20.3m.
The report does not attempt to provide a figure if the council withdraws from the contract in other circumstances, but suggests the £80m-£90m cost produced for Cornwall Council when considering abandoning a similar contract is a "useful indication".
The Labour leader of the council George Nobbs said he was glad councillors had decided to wait for a review on possible costs of withdrawing from the contract before making a final decision.
He said if the council had to pay out £90m the "consequences to services in Norfolk would be absolutely catastrophic".
Conservative councillor John Dobson said: "I am very happy with what has been decided. Now we can begin a proper debate on whether to go for the project or whether council officers can procure a cheaper way to get rid of our waste."
Stan Hebborn, deputy leader of the UKIP group, said he was also happy to wait for the review of the plans.
"The whole business of the incinerator has been going on for four years, our administration has been in office for six weeks," he said.
"We as councillors are fast learning to have the judgement of Solomon and the wisdom of Job."