UKIP Norfolk shoplifting councillor resigns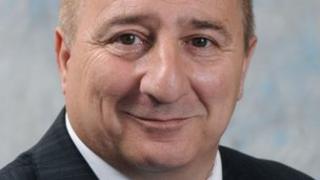 A UKIP councillor recently elected to Norfolk County Council has decided to resign after he was questioned about a shoplifting incident.
Peter Georgiou admitted he carried out the offence in Thetford in May 2012, but said he was taking medication at the time and has since apologised.
He later paid for the items and no further action was taken.
But after his election last month the incident was publicised and Mr Georgiou said the pressure was too much.
Mr Georgiou was elected to represent Thetford West, gaining 814 votes for UKIP.
'Mud-slinging'
After the publicity about his shoplifting offence, the councillor first said he would consider his future.
He has now said the price of staying in the job was too high.
"I suppose you could say I was green to politics and I didn't know how nasty politics could be as far as mud-slinging goes," he said.
"The price was too high for me and I nearly lost too much."
Mr Georgiou said the offence happened when his wider family was "going through a very serious and stressful" incident.
He was not arrested and the incident did not go to court.
He said he had not been under any pressure from UKIP colleagues or other councillors to leave the council.
"It really has been my own choice and my family's choice," he added.
"I really thought I did have a thick skin, but it wasn't worth the embarrassment for my family."
Mr Georgiou said he regretted that he would not now be able to help people in Thetford.
"I tried to go out there and do some good for somebody," he said.