Thornham Beach fender to be refloated by experts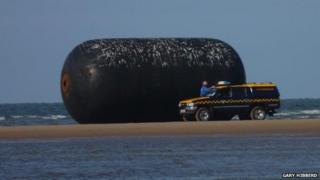 Experts have been called in to transport a ship's giant fender from a Norfolk beach back to its moorings in a North Sea oil field.
Inflated rubber Yokohama fenders, like the one on Thornham Beach, protect quay walls and are used in ship-to-ship transfers at sea, the coastguard said.
Warnings were sent out over the past few weeks to shipping after the fender came free during a gale off Norway.
A team now aims to refloat it and return it.
The Coastguard and Maritime Agency traced the owners of the fender, which is 30ft (9m) long and 20ft (6m) high, using a number printed on its side.
Its owner, a Dutch company, has now organised a team of experts to go to the beach in north-west Norfolk.
A Coastguard and Maritime Agency spokesman said it had broken free of its moorings on an installation platform in Norwegian waters during a gale.
The spokesman said: "Several ships had tried to get it but none succeeded.
"Major shipping was in minimal danger from the fender and it was visible to smaller vessels as it is so big.
"It was only when it made landfall that it could be inspected and the number read so that the owners could be traced with a little detective work."