Cookie's Crab Shop trade 'being harmed' in parking spat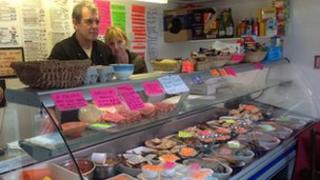 A Norfolk fish shop says its business is being harmed because a council has laid telegraph poles on an opposite village green to stop people parking.
Salthouse Parish Council laid temporary poles around Salthouse green, opposite Cookie's Crab Shop, last month to put an end to cars damaging the grass.
Peter and Suzanne McKnespiey said it was hurting business by as much as 50%.
Council chairwoman Sarah Dawson said parking on the village green was "against the law".
Mrs Knespiey's parents started selling shellfish and bait from the shop in 1956.
'Parking dreadful'
"The parish council just suddenly blocked it [the green] all off," she said.
"If they'd have spoken to us and there was a problem, I'd have probably helped them to sort it out by paying for the holes to be filled in and re-turfed.
"There is a question mark over the business. I dare not get any more staff."
Mrs Dawson said she tried to meet the McKnespieys three times and "lots of options" were discussed at the parish council meeting at the start of the year, but the couple had been unable to attend.
"The posts are a temporary measure because the green's got to be restored because it is damaged," Mrs Dawson said.
"Afterwards, people still won't be able to park because it's against the law. The village deserves green, open space.
"Parking is dreadful and I don't know what the answer is. There's no land, no space for a car park as it's a tiny village of 350 people."