David Pooley fears prosecution after Norfolk Broads work
20 May 2013

From the section

Norfolk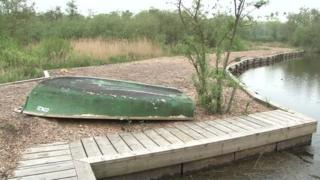 A landowner who claims to have spent thousands of pounds turning a "muddy puddle" on the Norfolk Broads into a haven for wildlife says he has been threatened with prosecution.
David Pooley has been dredging Sotshole Broad for the past three years and has installed new paths and a wooden quay.
"It's now full of fish. It had nothing," Mr Pooley said.
But the Broads Authority said some of the construction work had resulted in a "loss of wet woodland".
Mr Pooley said he bought the land near South Walsham in 2005 and five years later began restoring the boundary to what is shown on a Broads Authority map from 1886.
'Very surprised'
"We've spent the last three years digging it out," he said. "It's now down to the depth recommended by the Broads Authority, of just over a metre.
"The birdlife has returned, the otters are back, the pike are back, it's very beautiful.
"It was previously inaccessible and now we can get to it, and so can others."
Mr Pooley said he had worked alongside the Broads Authority in 2008 and was "very surprised" when he was told he would be served an enforcement notice and possibly face prosecution for not gaining planning permission.
"I had no reason to believe I was doing anything wrong, I could only apologise." he said.
"We are in the process of putting in a very detailed retrospective planning application to cover all the things they say I've done wrong in the hope they'll consider it and make a sensible judgment in the public interest."
The Broads Authority said it was "not looking at prosecution at this stage" and was hoping to work with Mr Pooley to find a resolution.
Andrea Long, director of planning and strategy, said: "The work to the broad itself is not an issue and in fact we welcome its improved condition.
"The extensive construction works at the site, however, do need planning permission, having unfortunately resulted in a loss of wet woodland area and being contrary to our legal responsibility to protect the environment and ensure high quality design,"