Norfolk schools 'to be improved after Ofsted inspection'
15 May 2013

From the section

Norfolk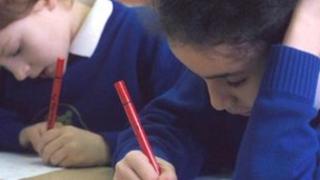 Education officials in Norfolk have insisted standards would be improved after six schools placed on special measures were named.
Ofsted carried out inspections at 28 schools during a week in March and discovered "considerable concern".
The education watchdog wanted to find out why children in some parts of the country have a lower chance of going to a better school than those elsewhere.
The county council said £1m would now be spent on improving schools.
Cavell Primary and Nursery in Norwich, Cobholm Primary in Great Yarmouth, Hethersett High, Herman Community Primary in Gorleston, Stalham Junior and St Clement's High, near King's Lynn, were all judged as inadequate and require special measures.
Inspectors also found that 12 schools previously judged as satisfactory now need to improve.
'Ambitious plan'
However, one school has been upgraded from good to outstanding and six schools have now been judged as good instead of satisfactory.
A total of nine schools were classed as good in the focused inspection.
Norfolk County Council was criticised for its unclear strategy, lack of support for schools in special measures and for not intervening quickly to tackle weaknesses in schools.
Director of Norfolk County Council's children's services Lisa Christensen said a new "robust" strategy had been devised.
She said: "It aims to ensure every child has a good education in every school in Norfolk.
"We have an ambitious aim to get to at least the national average in terms of the numbers of schools who are judged to be good or outstanding by Ofsted by 2015."
The £1m to be injected into schools as part of the council's new strategy, A Good School for Every Norfolk Learner, will be spent on raising standards.
Mrs Christensen said: "We're going to categorise schools into whether or not they need some sharp improvement.
"There are about 160 schools which we are going to be spending the extra resources that the county council agreed for us."