Norfolk County Council: Lib Dems count out coalition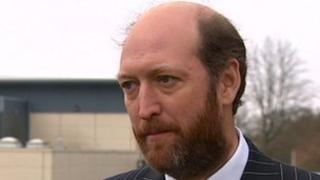 Liberal Democrats elected to Norfolk County Council on 2 May have refused to go into coalition with Conservatives, who are the largest group.
The full council failed to elect a leader and parties have been in talks to find a suitable candidate.
Liberal Democrats have decided coalition would not be "satisfactory".
Conservative Bill Borrett, who lost the leadership ballot by three votes, said he was "disappointed" but would work for a solution before a vote on 24 May.
Lib Dem group leader Dr Marie Strong said: "We have taken time to look at the widest range of options available and will continue to do so.
"To serve Norfolk people in the best possible way and to undo what we regard as the democratic deficit of recent years all parties need to have the chance for their voices to be heard at Norfolk County Council.
"This will not we believe be served by a coalition."
Dr Strong is expecting criticism over the decision.
Major issues agreed
"This is both a complicated scenario and an incredibly important time for the entire county," she said.
"We intend to continue talking to all parties and all members to find the right way forward."
Mr Borrett said: "I am disappointed but will continue to talk to all the other parties but we cannot force anyone to go into coalition.
"During negotiations we had agreed to all they asked for so there were no major issues outstanding.
"But they have made up their minds."
The Conservatives have 40 members on the council but do not have overall control.
There are 44 opposition members and in the vote for a new leader the Conservative's only candidate Bill Borrett failed to get a majority.
Mr Borrett, who led the council before the election, lost the leadership vote by 43 to 40 - one person was absent.
Liberal Democrats had been expected to support Mr Borrett, who had been council leader since January, but were said to be unhappy about the Conservatives' continued support for a controversial incinerator planned for King's Lynn.
The 84 member council has 40 Conservatives, 15 UKIP, 14 Labour, 10 Liberal Democrats, four Green Party and one Independent.