Holt Youth Project calls for public funding to help rural youngsters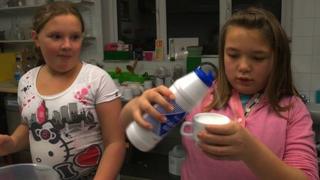 A rural project that supports vulnerable young people in Norfolk says it can be "really embarrassing" to "beg, steal and borrow" just to get by.
Holt Youth Project is based on a council estate about 22 miles (35km) north of Norwich and serves young people from rurally isolated areas.
Julie Alford, who runs the project, has told a BBC One programme, Living With Poverty, that the group receives no public funds.
Mrs Alford started the group in Holt about 27 years ago in the living room of her home.
They hosted barbeques, hikes - "everything that didn't cost too much money", she said.
Some "very lovely people" from the community helped find and fund the building they currently occupy.
"There's nowhere else for them to go in the evenings," Mrs Alford said of the young people who use the group.
"It's about providing a safe environment for them to meet and socialise with the minimum supervision, but within that structure giving them activities that will benefit them."
'Strong supporter'
The group is backed by Norman Lamb, North Norfolk MP, care and support minister and patron of Holt Youth Project.
Mr Lamb said the "great power" of the centre was its footings in the community.
"I think that if it just became a state thing, with state employees, it would change completely in character.
"I'm an enormously strong supporter of what they're doing and I never cease to be amazed by what they can achieve."
On Wednesdays, the youth project runs sessions for two different groups of young carers.
"It's very much a 'me time' for them," Mrs Alford said.
In order to do the activities, she has to collect the children from their homes in Holt and the outlying villages.
"It's such a rural location that they live in and there's no public transport, there's no buses, there's no trains and, in some of the villages, there's just one bus a week," she said, adding that it is a two hour round trip to collect the children.
The programme shows Ms Alford and some of the group's young people at a fundraising dinner, organised by the North Norfolk Rotary.
"It's really lovely of them to do it and without them we wouldn't be able to deliver this service," Ms Alford said.
"But part of me feels it is sometimes really embarrassing having to kind of almost beg, steal and borrow from our own community when money's tight.
"It's not really fair, but without them I don't know what we'd do."
Living With Poverty is broadcast on BBC One at 23:05 BST.